Established in December of 2011, Etowah Valley Yoga and Yoga, Etc. now offer a 600 Hour Professional Yoga Therapy Program.  In addition to the 200 Hour and 300 Hour programs, all training at Etowah Valley Yoga is approved by Yoga Alliance standards.  Etowah Valley Yoga is a member school of the International Association of Yoga Therapists (IAYT).
Our program is based on the traditional view of yoga, addressing the five koshas as the path for health and healing. We address all the systems of the physical body, including muscular, skeletal, cardiac, respiratory and immune systems as they relate to special populations. Our training includes learning of the the energy body with the Chakra retreat and teaching advanced pranayama. The program includes training in the philosophy and the physiological aspects of yoga. Meditation, as a personal practice as well as teaching meditation, are also included. Registered Prenatal Teacher Training (RPYT) is offered as an elective.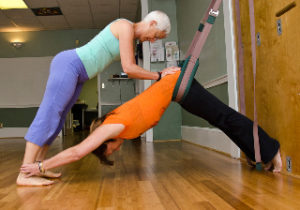 The 600 hour program includes 400 contact hours and 200 mentorship hours. The contact hours will be taught at Yoga, Etc., except for a week long retreat on the chakras, hosted at Many Streams Ranch in Rome, Georgia. We will offer at least one weekend of training per month, taught by Sue Hopkins or guest faculty.
After completing ten weekends and the week long chakra retreat, the student will be eligible to apply to the Yoga Alliance at the 500 Hour level. If the student chooses to continue in the PYT training they will also complete the necessary hours for the Registered Prenatal Yoga Teacher (RPYT) with the Yoga Alliance. The PYT contact hours of training will include a total of eighteen weekends and a week long retreat.
The 200 hour mentoring program can be completed in your home community with in the 18 months of training or after.
The student will be asked to research, design, implement and teach three six week therapy session classes. The sequence will be submitted before it is taught, and a written report will be sent after each session. The focus of these classes are chosen by the student teacher. Examples are: back care, prenatal, cardiac issues (HBP), anxiety, etc.
The mentoring program also includes 30 private sessions (usually three sessions for one person). A pre and post report are also required. Phone conversations as needed.
Contact Us for more information.
Click here to download the PYT Application Form.